Current Events

Exhibitions & culture -

Concerts & music -

Spectacles -

Let's have fun together!

Masterpieces from the Museum d'Orsay
Impressionists and other French artists of the nineteenth century. (09/23/2013 - 01/05/2014) - Quarter of Santo Spirito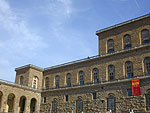 On show twelve paintings of the Impressionist period on loan from the museum d'Orsay: two paintings by Edgar Degas, two by Claude Monet, two by Cézanne, two by Camille Pissarro, one by Paul Guigou, two by Pierre-Auguste Renoir.
Where: Gallery of Modern Art, Pitti Palace, Pitti Square 1.
When: from 23th September 2013 to 5th january 2014. Opening hours: 8,15AM-6,50PM. Closed on Monday.
« Back to previous Page - Show all events
Niji.Net bears no responsibility for changes in the program of the above mentioned events.