(not only) bicycles!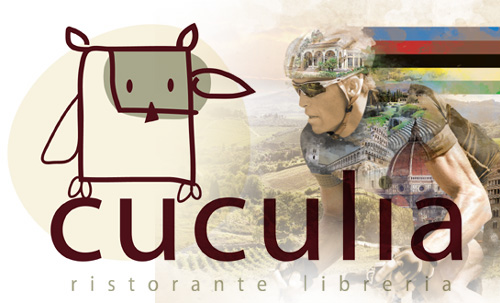 During World Cycling Championships in Florence from 22 to 29 September, cycling meets cooking in a series of meetings and exhibitions at Cuculia Ristorante Libreria:
Tuesday 24th, 6.30PM: Cycles
Inauguration of paintings by Stefano Ramunno. 15 big size works in mixed techniques on canvas that tell the bike. Images of a lighthearted, fast, personal, sporty, vital and romantic bicycle.
Thursday 26th 6.30PM: Gino Bartali: My dad
Presentation of the book by Andrea Bartali of his father, the great cyclist Gino Bartali: Andrea Bartali tells his father. Readings from the book and theatrical scenes by Teatro Là with Alessandro Grisolini and Bernard Vandal.
Friday 27th 6.30PM: A bicycle-suitable life
Meeting and discussion on the dynamics of everyday life and through the movement and the times of bicycle. A trip to the historical memory of bicycle and childhood. Guests: Paul Borin, professor of Education Science and the artist Stefano Ramunno.
Friday 27th 8.30PM: Cycle Dinner
All-round culinary impressions: When food creativity meets the idea of bicycle. By chef Oliver Betancourt.
From 22th to 29th September
In the bookstore: Cyclopaedia, published by Ippocampo, the original and innovative encyclopedia on the bicycle in Italian and English: evolution, icons and design of the bicycle.
Projections of photographs on the bike selected by Cuculia and the cultural association Photoalchimie.