Current Events

Exhibitions & culture -

Concerts & music -

Spectacles -

Let's have fun together!

Guided visits to the astronomical Torrino of La Specola museum
Guided tours at the ancient observatory. (02/09/2013 - 12/14/2013) - Quarter of Santo Spirito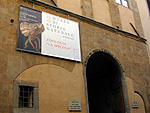 A look at the astronomical past of Florence in a journey between science and art, through very suggestive parts of the Specola museum where valuable instruments are preserved.
Where: at the Museo della Specola, Via Romana 17.
When: (D/M/Y) 09/02/2013; 09/03/2013; 13/04/2013; 11/05/2013; 08/06/2013; 13/07/2013; 10/08/2013; 14/09/2013; 12/10/2013; 09/11/2013; 14/12/2013. Guided tours at 10,30AM and 11,30AM.
« Back to previous Page - Show all events
Niji.Net bears no responsibility for changes in the program of the above mentioned events.