Current Events

Exhibitions & culture -

Concerts & music -

Spectacles -

Let's have fun together!

"Market of Herbs and Tools"
Herbs and Natural Foods in Piazza Santo Spirito (01/01/2018 - 12/31/2018) - Quarter of Santo Spirito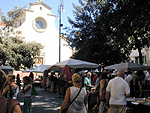 At these street market you can find not only herbs, but also organic foods and many objects crafted with natural materials.
Where: in Santo Spirito Square.
When: on the third Sunday of each month.
« Back to previous Page - Show all events
Niji.Net bears no responsibility for changes in the program of the above mentioned events.