Current Events

Exhibitions & culture -

Concerts & music -

Spectacles -

Let's have fun together!

Zhang Huan. Soul and Matter
Exhibition of contemporary art at the Fortress of Belvedere. (07/08/2013 - 10/13/2013) - Quarter of San Niccolò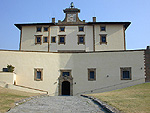 The Forte di Belvedere reopens after five years with the exhibition of sculptures by Chinese artist Zhang Huan. The artist works between China and the United States and is famous for his huge works, made of ash and incense, which slowly vanish during the exhibition itself.
Where: at the Fortress of Belvedere, Via di San Leonardo 1.
When: From 8th July to 13th October 2013. Opening hours: 10AM-9PM. Closed on Thursday.
« Back to previous Page - Show all events
Niji.Net bears no responsibility for changes in the program of the above mentioned events.