Current Events

Exhibitions & culture -

Concerts & music -

Spectacles -

Let's have fun together!

Galileo's tribune and the Florentine Specola
Anatomical models and ancient scientific instruments (03/20/2010 - 05/09/2010) - Quarter of Santo Spirito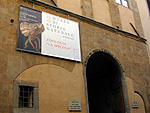 Wax anatomical models, telescopes and working replicas of ancient scientific instruments in this exhibition at the Museum of Natural History, once observatory ("specola") of Florence.
Where: al Specola Museum, entrance from Via Romana 17.
When: until May 9th. Opening hours: Tuesday-Saturday 9,30AM-4,30PM; Sunday 9,30AM-6PM. Closed on Monday.
« Back to previous Page - Show all events
Niji.Net bears no responsibility for changes in the program of the above mentioned events.