Current Events

Exhibitions & culture -

Concerts & music -

Spectacles -

Let's have fun together!

Eighteenth Century. A Selection.
A selection of eighteenth-century paintings from the Uffizi Gallery. (02/07/2018 - 04/15/2018) - Quarter of Santo Spirito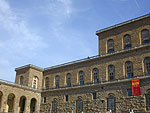 Seventeen paintings by Antonio Joli, Giuseppe Maria Crespi, Giovanni Antonio Canal (Il Canaletto), Jean Baptiste Sim On Chardin, François Xavier Fabre, Francisco De Goya Y Lucientes, Thomas Patch, François Rivière, Vincenzo Torregiani, Jean Tienne Liotard.
Where: Palatine Gallery. Entrance from Pitti Palace When: From the 7th of February to the 15th of April, 8,15AM to 6,30PM.
« Back to previous Page - Show all events
Niji.Net bears no responsibility for changes in the program of the above mentioned events.