Folding case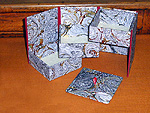 Folding case decorated with marbled paper
Price: Euro 20,00
Your personal data will be treated in full respect of current Italian Privacy Law (nr. 196/2003) and will be neither disclosed to others nor used for sending you unsolicited messages.
By sending this form no purchase order will be placed, nor will you be requested to purchase anything.
Requested informations will be sent to you directly from the producer(s) of the object(s).
Fields marked with * are mandatory.