Current Events

Exhibitions & culture -

Concerts & music -

Spectacles -

Let's have fun together!

Endless Darkness of Light
Poetry and Music at the Teatro Goldoni. (06/03/2018 - 06/08/2018) - Quarter of San Frediano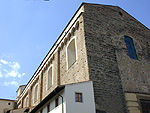 Performances based on Night Poems by Rainer Maria Rilke. Music by Adriano Guarnieri.
Where: at the Teatro Goldoni, Via Santa Maria 15.
When: from 3rd to 6th June, 8PM.
« Back to previous Page - Show all events
Niji.Net bears no responsibility for changes in the program of the above mentioned events.