Current Events

Exhibitions & culture -
Concerts & music -
Spectacles -

Let's have fun together!

From Roberto Capucci's hands: fabrics to be moulded
Cloths made between the second half of the 1950s and the first years of the 1990s by Roberto Capucci. (02/19/2013 - 12/31/2013) - Quarter of San Niccolò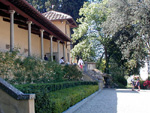 An exhibition with different types of clothes from one of the most prominent Italian fashion-makers. From the loosened peplos in the first section, to creative cropped jackets and boleros in the second section until the creative volumes and spectacular effects in the third section.
Where: Villa Bardini, Costa San Giorgio 2.
When: from 19th February to 31st December 2013. Open 10AM-7PM. Closed on monday.
« Back to previous Page - Show all events
Niji.Net bears no responsibility for changes in the program of the above mentioned events.